Vircussion
Virtual Percussion when used by electronic, midi or synthesized drums/percussion in a virtual media such as streaming video, streaming audio or other bandwidth capable media.
---
Vircussion ® Electronica Page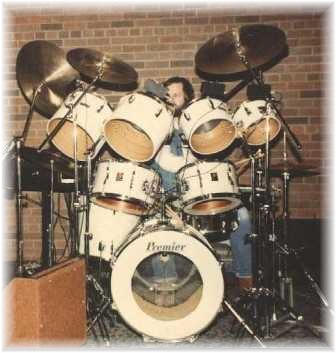 ---
When I first used the electronic synthesizers with my Premier Acoustic Kit in the 1970's (see 4 clip-on synth's upper toms in the picture above) I was able to add sounds to the Acoustic Kit that were an enhancement to the acoustic capabilities. The rims of the toms could be used to produce a second set of percussion instruments linked to the PA system sending the sound via a different path and area of the room. Sounds coming from somewhere that the audience were hearing and trying to figure out how it was being done.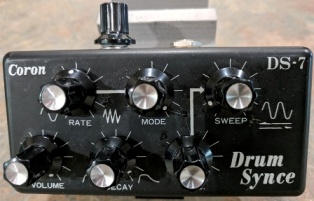 ---
Acoustic Drummers do not have to throw away their kits. Check out my V-Drum page for Tips & Tricks.

---
To hear my home studio recordings of MP3's using the TD-12 click on this link.

---
I have been playing drums and harmonica for many years. To see a bio click here.

---
I play in a number of bands and jam with many musicians. To see some jam videos and check out my personal WutEver Band updates click here.


---
We can accept and become a part of this new technology, discover it's capabilities and creatively bring these new sounds and developments into today's music to start a whole new dimension of music. Or, continue to use acoustic percussion. Take a look at music concerts today and you will see more and more electronic percussion in combination with acoustic percussion in every genre of music.
Once we learn how to balance the synthesized with our creativeness there will be a new music that we have never heard before. GPrice-2008
---
---
My Odell Borg - High Spirits Flutes (Native American style) that I added to my Blues Harp collection a few years ago while on a trip to Colorado Springs, 'Garden of the Gods Park' have influenced a change in my style. The High Spirits Flutes have a unique beautiful sound. http://www.highspirits.com/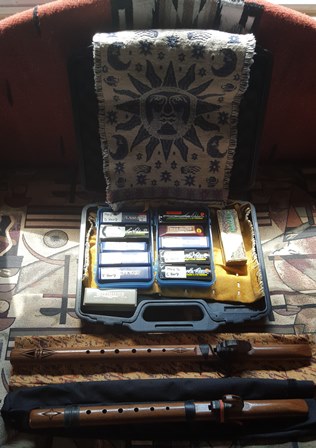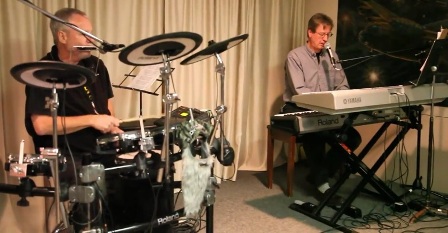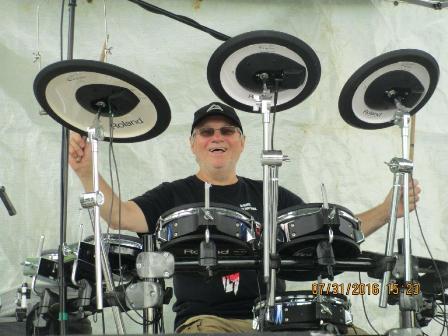 GPrice with the Black Fly Band 2016-2019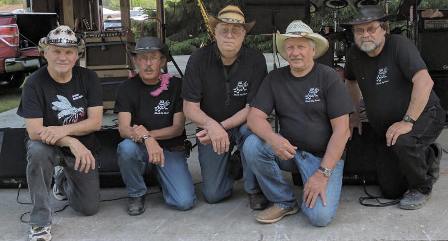 YouTube Videos
This website is maintained by

---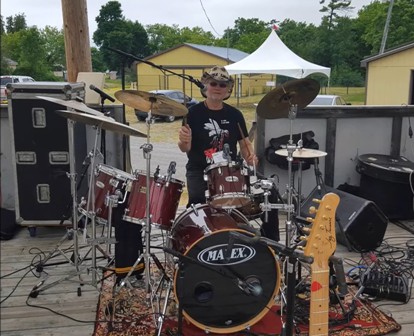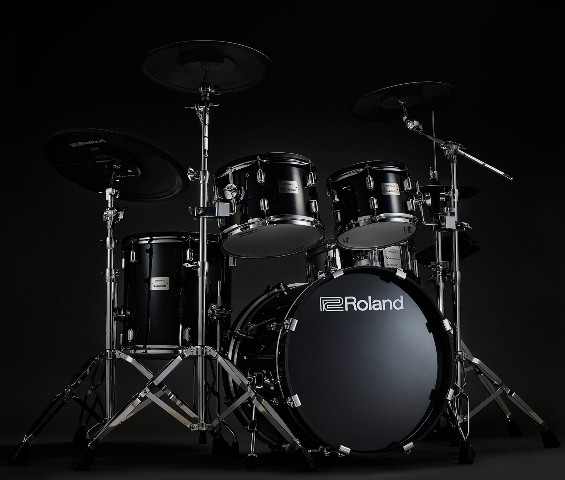 What's new? It's HYBRID Percussion. 2020-2021- Roland's latest is "VAD"- V-Drums Acoustic Design. VAD506, VAD503, VAD306 click here for more info-
---
My 2020/2021 Acoustic-Hybrid-Electronic Stage Kit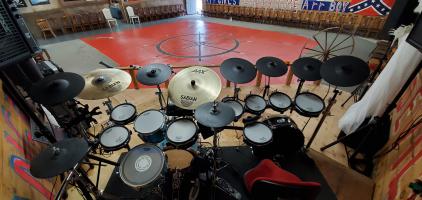 ---
My "Hybrid" Acoustic/eDrum Kit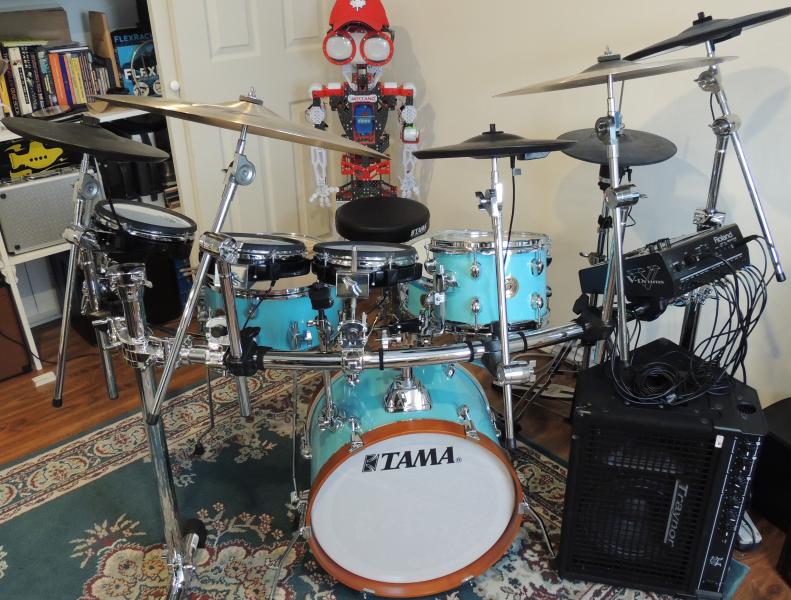 Tama Club Jam Acoustic Kit, Gibraltar Hardware, Roland TD-12 Sound Module, TD-12 Toms & Cymbals, Traynor DW10 Amp
---
DW5002 Double Pedals on my Roland TD Kit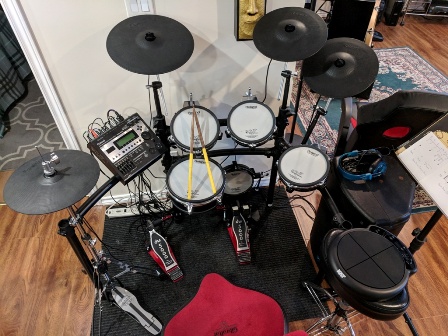 ---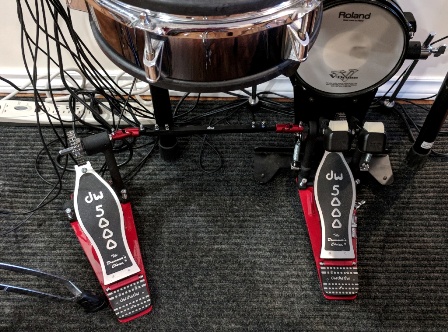 ---
Below- The completed design of my 2019 Drums/Percussion Concert Kit. Roland TD-25, a 22-inch Skinny Sidekick Bass Drum with a Roland KD-A22 Conversion Kit, DW Double Pedals, Roland EC-10 Electronic Layered Cajon, Percussion Instruments & 2-Traynor DW10 200watt eDrum Speaker System, plus my collection of Blues Harps. The TD-25 Drum Stand definitely does not work for fitting this Bass Drum & I used my TD-12 Drum Stand with some refitting of the frame & it works. The Roland Documentation recommends the MDS-50K Drum Stand & it would work much better, but I wasn't about to add another expense buying a new Drum Stand.
This is a nice setup & the new look makes this a beautiful kit.
It triggers very nice, so far no problems. Next, I'll be fitting a double bass drum pedal.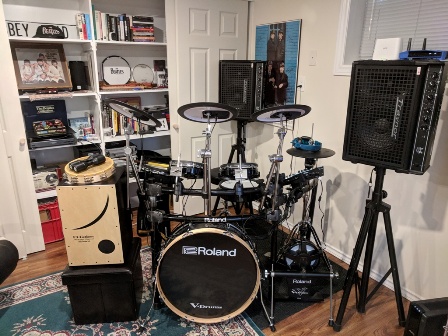 ---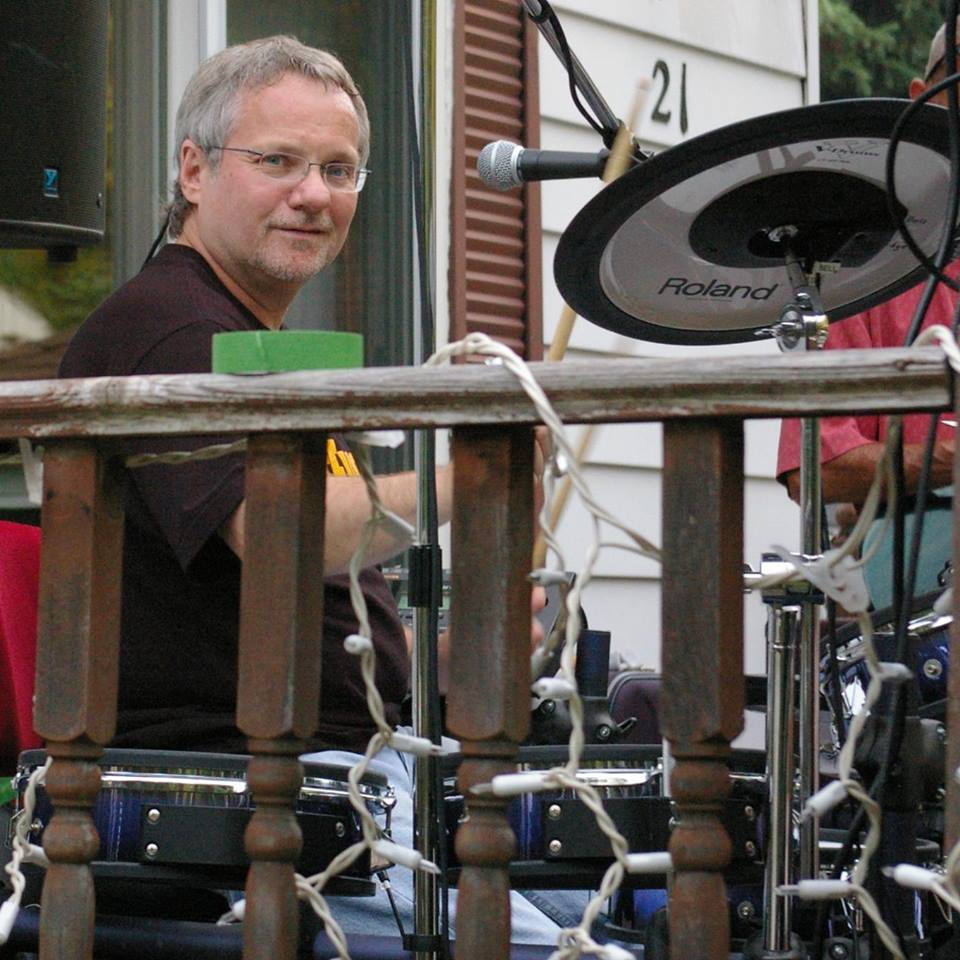 ---